St. Patricks Day is almost here bringing with it green beer and colourful rainbows.   Scrolling through Pinterest so many of these adorable patterns caught my eye, and as I was adding the my St. Patricks Day Crochet Board I thought how much you may all enjoy them.
This post contains affiliate links – see TERMS & DISCLOSURES
A special thanks to all the wonderful designers that share their talents and gave permission to use their photos.
Crochet Rainbow Snake Pattern
CROCHET RAINBOW SNAKE By: Olena
"This cute crochet Rainbow Snake was supposed to be not a snake at all. It was supposed to be something else." Olena
Crochet Rainbow Zebra Pattern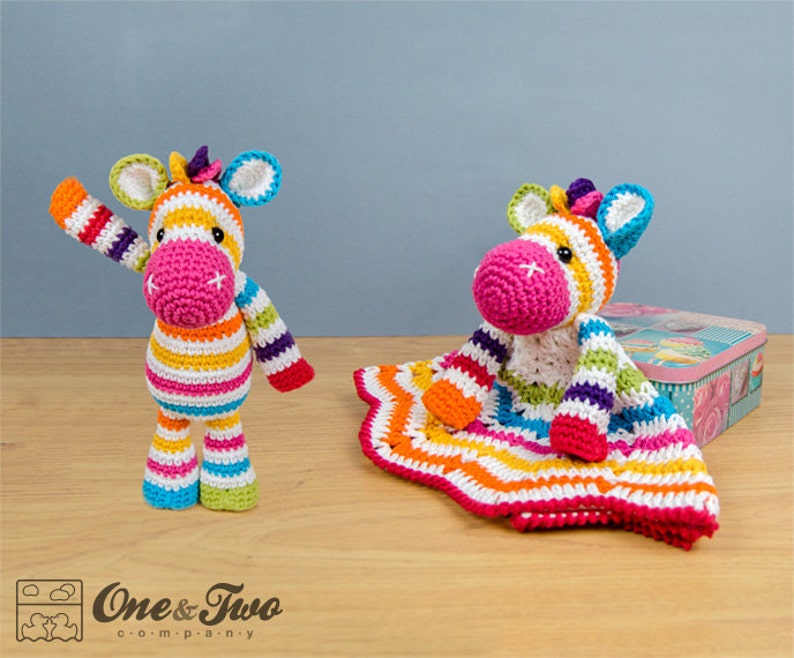 COMBO PACK RAINBOW ZEBRA By: One and Two Company
"This sweet security blanket will help your baby to have sweet dreams. It will be an inseparable friend. Make it for boy and girl. And when your little one grows, you can make a fun amigurumi. Rainbow Zebra Amigurumi is the perfect friend for your child, sweet and charming."
Crochet Rainbow Coffee Sleeve Pattern
ST. PATRICK'S DAY CROCHET COZY PATTERN By: Pretty Darn Adorable
"FUN and FESTIVE St. Patrick's Day Crochet.  Are you looking to make something fun cheery and festive?  This rainbow cup sleeve is great for beer or coffee especially on St. Patrick's Day 🙂  This is a great project for scrap yarn too!"
Pot of Gold Crochet Pattern
POT OF GOLD  By: Eden Reborn
"I thought that since today is St Patrick's Day it would be nice for the little ones to find a Pot of Gold waiting for them when they wake up. After all, isn't that why we all love a rainbow? The promise that we might find some hidden treasure among the beautiful shimmering colours." Eden
Rainbow Keychain Crochet Pattern
RAINBOW KEYCHAIN Pattern Credit to: Osage County Crochet
Easy Crochet Rainbow Hat Pattern
EASY CROCHET RAINBOW HAT PATTERN By: Pretty Darn Adorable
"Looking for an easy crochet rainbow hat for  St. Patrick's Day? This slightly slouchy crochet hat pattern is exactly what you need.  Pick your favourite yarn(s), and hanker down in your favourite cozy place for a few hours and voila!  You will be done!"
Rainbow Saver Tote
RAINBOW SAVER TOTE By: The Loopy Lamb
Thanks so much again for all that allowed me to share.  Please be sure to visit these talented designers shops for more great patterns.
Cyp